Access to Nagano
Nagano is approximately 90 minutes from Tokyo station on the Shinkansen (bullet train).  The Hokuriku Shinkansen, also known as the Nagano Shinkansen, was completed in time for the 1998 Winter Olympics. There are 2-3 trains which depart per hour from Tokyo Station, and it costs around ¥8,000 each way.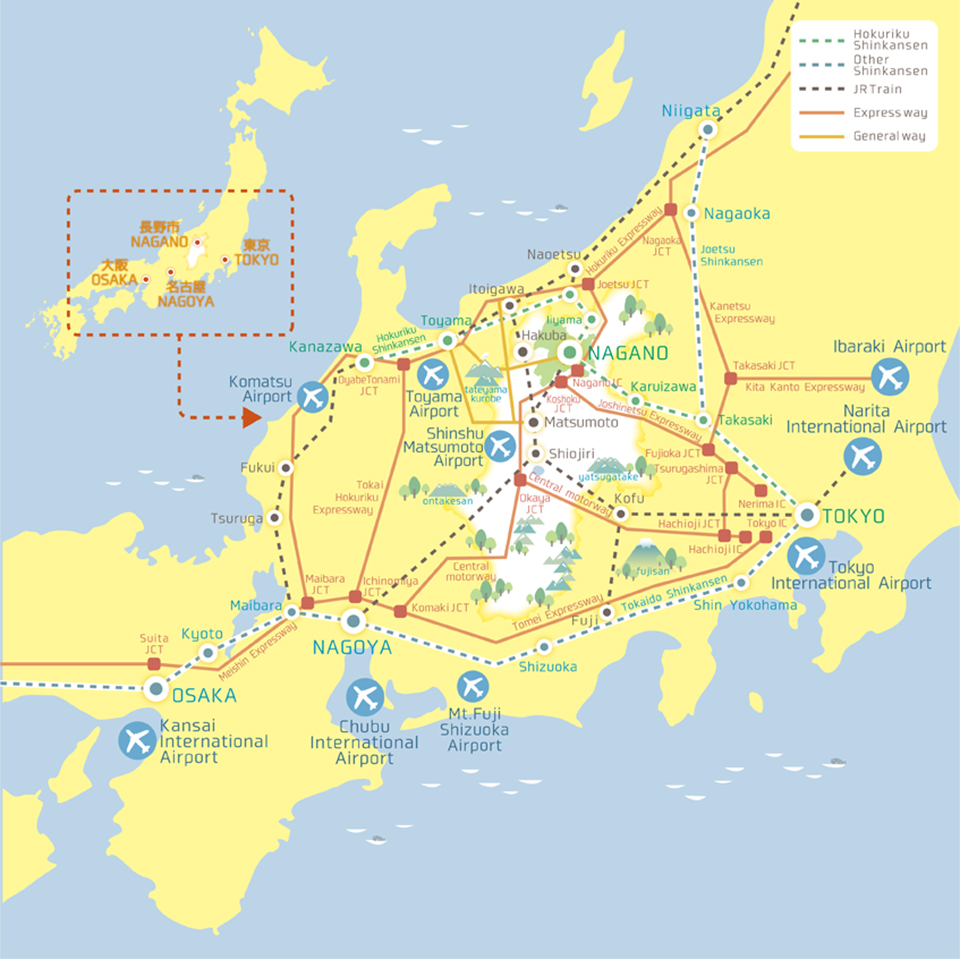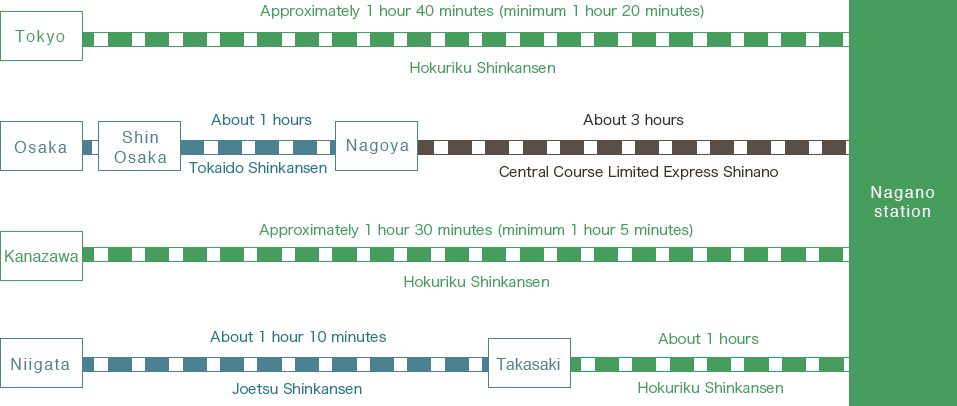 The Wide View Shinano limited express train runs hourly from Nagoya to Nagano. This takes about three hours, costs under ¥8,000 each way and is the best method of reaching Nagano by train.
Highway buses from Tokyo depart from the terminal in Shinjuku and from Ikebukuro. The trip takes around three and a half hours, and the fare is around ¥3,000 – ¥5,000 one-way, so it is about half the cost of the Shinkansen.
Alpico and other buses also make a few day-time and night-time trips from Osaka and Kyoto to Nagano. The day-time buses take about seven hours, and the night-time trips take nine hours. You can expect to pay around ¥6,000 each way between Osaka and Nagano, and around ¥5,000 each way between Kyoto and Nagano.
Those fare depend on seasons.
*How to ride the bus in Nagano City
(1)Board the bus from the back door.
(2)Take a numbered ticket as you board.
(3)Press the button to get off at your desired stop.
(4)Pay your fare before getting off the bus. Payment by coins is best. However, notes can be changed on the bus (\1,000 note only).
(5)Get off the bus from the front  door.
※In some cases, tickets should be purchased in advance.
JR / Japan railways Cash Only
Section
Seat
Fare
One/Round
Train
Description
Nagano ⇔ Tokyo
Reserved seat
¥8,200 ⇒

¥7,900

One way
Shinkansen
available not only to Tokyo station but also to within 23 districts in Tokyo
Nagano ⇔ Tokyo
Reserved seat
¥16,400 ⇒ ¥15,700
Round trip
Shinkansen
available not only to Tokyo station but also to within 23 districts in Tokyo
Nagano ⇔ Omiya
Reserved seat
¥6,460 ⇒ ¥6,100
One way
Shinkansen
available not only to Omiya station but also to Kawaguchi & Toda Koen station
Nagano ⇔ Omiya
Reserved seat
¥12,920 ⇒ ¥12,150
Round trip
Shinkansen
available not only to Omiya station but also to Kawaguchi & Toda Koen station
Ueda ⇔ Tokyo
Reserved seat
¥6,670 ⇒ ¥6,400
One way
Shinkansen
available not only to Tokyo station but also to within 23 districts in Tokyo
Nagano ⇔ Nagoya
Reserved seat
¥7,330 ⇒ ¥6,850
One way
Shinano/Limited express
available between Nagano and Nagoya station
Nagano ⇔ Nagoya
Reserved seat
¥14,660 ⇒ ¥13,650
Round trip
Shinano/Limited express
available between Nagano and Nagoya station
Nagano ⇔ Nagoya
Non-Reserved seat
¥6,810 ⇒ ¥6,500
One way
Shinano/Limited express
available between Nagano and Nagoya station
Nagano ⇔ Nagoya
Non-Reserved seat
¥13,620 ⇒ ¥12,950
Round trip
Shinano/Limited express
available between Nagano and Nagoya station
Nagano ⇔ Matsumoto
Non-Reserved seat
¥2,320 ⇒ ¥1,650
One way
One way Shinano/Limited express
available between Nagano and Matsumoto station
Matsumoto ⇔ Shinjyuku
Reserved seat
¥6,896 ⇒ ¥4,900
One way
Azusa/Limited express
available between Matsumoto and Shinjyuku station
・And more.. To Kanazawa, Toyama, Karuizawa and so on / Also available only a basic fare ticket for all non-reserved seat Shinano
Shinano Tetsudou
| Section | Seat | Fare | OneW./RoundT | Train | Description |
| --- | --- | --- | --- | --- | --- |
| Nagano ⇔ Ueda | Non-Reserved seat | ¥770 ⇒ ¥720 | One way | JR + Shinano Tetsudou | available between Nagano and Ueda station |
Bus
| Section | Seat | Fare | OneW./RoundT | Train | Description |
| --- | --- | --- | --- | --- | --- |
| Nagano ⇔ Hakuba | Non-Reserved seat | ¥1,800 ⇒ ¥1,700 | One way | Express bus | available between Nagano and SunSunPark, HakubaGoryu, HakubaStation, HakubaHappo and so on. Excluding TsugaikeKogen |
Nagano Dentetsu
Section
Seat
Fare
OneW./RoundT
Train
Description
Nagano ⇔ Yudanaka
Non-Reserved seat
¥1,160 ⇒ ¥1,100
One way
Nagano Dentetsu
available between Nagano and Udanaka station. Additional fare \100 for Snow Monkey Express
Nagano ⇔ Obuse
Non-Reserved seat
¥670 ⇒

¥640

One way
Nagano Dentetsu
available between Nagano and Obuse station
Nagano ⇔ Suzaka
Non-Reserved seat
¥540 ⇒

¥520

One way
Nagano Dentetsu
available between Nagano and Suzaka station
Bus
| Section | Seat | Fare | OneW./RoundT | Bus | Description |
| --- | --- | --- | --- | --- | --- |
| Nagano ⇔ Zenkoji | Non-Reserved seat | ¥150 | One way | Binzuru-go | available between Nagano station and Zenkoji |
Bus
| Section | Seat | Fare | OneW./RoundT | Bus | Description |
| --- | --- | --- | --- | --- | --- |
| Nagano city Circular Bus | Non-Reserved seat | ¥150 | Round trip | Nagano city Circular Bus | About 45 minutes for round trip |
Bus
| Section | Seat | Fare | OneW./RoundT | Bus | Description |
| --- | --- | --- | --- | --- | --- |
| For Zenkoji & Matsushiro | Non-Reserved seat | ¥1,400 | Round trip | Travel Bus | Unlimited one-day travel on the buses for Zenkoji Temple, Matsushiro and Kawanakajima. |
Bus
| Section | Seat | Fare | OneW./RoundT | Bus | Description |
| --- | --- | --- | --- | --- | --- |
| For Zenkoji & Togakushi | Non-Reserved seat | ¥2,600 | Round trip | Travel Bus | Unlimited five-days travel on the buses for Zenkoji Temple and Togakushi |
Bus
| Section | Seat | Fare | OneW./RoundT | Bus | Description |
| --- | --- | --- | --- | --- | --- |
| For Zenkoji & the others | Non-Reserved seat | ¥5,500 | Round trip | Bus & rail | Unlimited two-days travel on the buses & trains for Zenkoji Temple and the others |